Get Involved
Join as Staff
Luke 10:2  "(Jesus) told them, "The harvest is plentiful, but the workers are few. Ask the Lord of the harvest, therefore, to send out workers into his harvest field."
We know the harvest is plentiful!  Jesus commands us to ask God to send forth workers in that harvest.  We at Hope4Africa are praying that God would send workers to partner with us.  We need mature Christians who will commit to serving for a minimum of one year.  We need men and women.  Whether your gifting is to work with children or disciple adults; whether you love prayer or practical service; whatever your talents, we have a place for you!
***Current Urgent Needs: People with a heart to reach out to young people; People with a heart for discipleship through Discovery Bible Study, which is a discovery process (we will train you in how to do this!); People who can initiate prayer and worship in, over and through Johannesburg.***
There is an application procedure and references will be taken. Please click here for an application form
Short-term Volunteers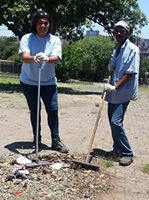 Some people have only a few months to serve, yet have much to give in that short space of time.Please click here for an application form We welcome short-term volunteers to bring their gifts and passion as they work alongside the long-term staff.  Short-termers may be involved in a variety of ministry activities, including practical service, work with children and youth, prayer, relationship building and Discovery Bible Studies.
There is an application procedure and references will be taken.
Internship
Joining a pioneering ministry can be a daunting experience.  In order to help new comers 'find their feet' both in ministry and in Johannesburg, we have developed an internship.  This is an 'on the job' training program that covers topics like orientation to the city, time management, personal growth, engaging with a new ministry group and goal setting & evaluation.  It provides a flexible structure that will support new staff as they join the Hope4Africa team. For those for whom English is a second language, we welcome you to combine an internship with learning English through our community English classes. Interested to find out more? Then click here and we'll start chatting.
Short-term Teams
When a team comes for an outreach they are able to add so much to the day- to-day work we do in the community.  We are blessed with the fresh ideas and enthusiasm of short-term teams.  Having extra people allows us to do special projects or events that bless and serve the community and build into the ministry we do for the long term.  We believe that even spending a month with us will leave a lasting impact on your team. Are you interested in bringing a short-term team? Click here to start a conversation with us!
Pray
The success of workers on the ground is determined by the support they receive in prayer.  We have regular weeks of prayer during which time we soak the community with intensive prayer.  People from around the globe join us by committing to adopt a street or person, and pray fervently for them for that week.  Others pray regularly for the ministry and the workers on an ongoing basis.  If you'd like to pray regularly with us or join a week of prayer, click here and we'll send you some information.
Acts of Service
If you have any practical ways of serving either the ministry or the community directly, we would love to work with you!
If you would like to be involved or to find out more about how your skills and gifting can serve the community (in a part-time or full-time capacity) please click here to get in contact with us.
Give
There are many different areas in which Hope4Africa is blessed by your financial contributions and there are a number of different ways that you can give:
Sponsorship: Hope4Africa staff, ladies who are doing the Cherish course, resources for English classes, and the establishment and maintenance of skills training stations in the community
Financial Gifts: There are a number of practical needs that the ministry has, including the printing of Cherish manuals, travel expenses and administration costs. For the community itself, one of the primary needs is finances to purchase bibles in different languages.
Relief Giving: Occasionally we have the opportunity to give to people in relief situations (such as when someone's house has burned down or the breadwinner is hospitalised) and financial/practical gifts in these circumstances are welcome.

Hope4Africa is registered as Voluntary Association in South Africa.  In addition, we have Public Benefit Organisation status (PBO number: 930044804), making it easier for companies or individuals to make donations.
Please click here to make a one off or regular donation to Hope4Africa via Stewardship.
Please click here to get in contact with us.