---
Vision.
The vision of Hope4Africa is to see communities transformed as individuals and families are discipled into the Kingdom of God.
Our work is community-based, and our heart is to see the African continent transformed as people encounter God in a genuine, life-changing way. Friendship, prayer and practical service are some of the keys for getting to know and love the communities we are working with.  We invite hungry people to form "Discovery Bible Study (DBS)" groups, where they get to know God and one another as they read and live the Bible in community.  
Values
Bible
The Bible is the guide for everything we do, from growing relationships to walking in faith, gaining and spending money to managing our time
We believe that anyone can understand the Bible, and we aim to help each person we work with to read, understand, obey and enjoy the scriptures
Prayer
Prayer is the foundation for all we do
We value many ways of praying, including the use of creativity, prayer walks, strategic prayer partnerships, prophetic prayer, and spiritual warfare
People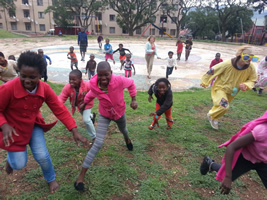 People always take priority over projects
We desire to love people genuinely, not looking for rewards, and continuing to love through challenges
We believe that every person and community is brimming with gifts, abilities and resources.  We are committed to seeking out these treasures, however, hidden they may be, and seeing people released into their full potential
The family unit is a key building block in every community.  We desire to work with whole families, including children
Children are valuable, and we seek to demonstrate Jesus's heart of love for children wherever we work
Working in teams provides safety, support and opportunities for growth.  We encourage those who work with us to participate fully in team life and to minister from that place
Culture
We value every local culture and seek to honour each person, whatever their culture and language
We promote a Biblical Kingdom culture and seek to identify and embrace the Godly aspects of each cultural group
We encourage people to worship, read the scriptures and share together in their mother tongue, where possible
Integrity
We value a culture of honouring each other.  This includes our team, short term volunteers, those we serve and the wider community
We seek to be good stewards of every resource and to encourage others to do the same
We encourage people towards faith in Christ without manipulation or fear of rejection
Simplicity
We seek to model a lifestyle of relationship and ministry that can be easily multiplied.  Growth results from genuine relationships, obedience to God's word and the early release of local leaders, rather than dependence upon 'spiritual experts', large sums of money or complex programs.
Action
We value and intentionally seek the work of the Holy Spirit in demonstrating the Good News through signs, wonders and miracles.
We are committed to serving communities in practical ways such as crisis relief and skills training.